Stay and Relax
in a beautiful, fully restored, gypsy bow top wagon and sample a lifestyle almost lost to the modern world.
If you are looking for some peace and tranquillity away from your normal life , then staying with us is the answer. Tucked away in the heart of the beautiful Somerset countryside, at the end of a no-through lane but entirely separate from one another,  you will find either The Famous Five gypsy caravan or Ruby nestled in the lush surroundings of an old cider apple orchard and wild flower meadow.
Sit on the caravan steps in the evening savouring the moment while watching the embers of the fire fade with the end of the day. Maybe you'd like to relax inside your wagon  with its detailed Romany interior contemplating the wonders of life…..
Enjoy the timeless peace of the surroundings or visit some of the many fascinating, beautiful and historic places this part of Somerset has to offer. It's perfect for couples who want a romantic break together or families looking for an exclusive  getaway.
Prices are based on two people staying and  start from as little as £84 per night. Both Ruby and The Famous Five.  Both wagons however can accommodate more in the adjacent vintage caravans. See our booking and prices page for more details. Our ponies, chickens,  cat and of course Crumble our dog will give you a warm welcome!
If your party has more than 2 people and you all want to sleep in a gypsy caravan in the same orchard why not hire Ruby and the Famous Five who can be pulled into the same orchard to make a really special  experience.  To find out about prices for hiring both gypsy caravans together call me or email info@gypsycaravanbreaks.co.uk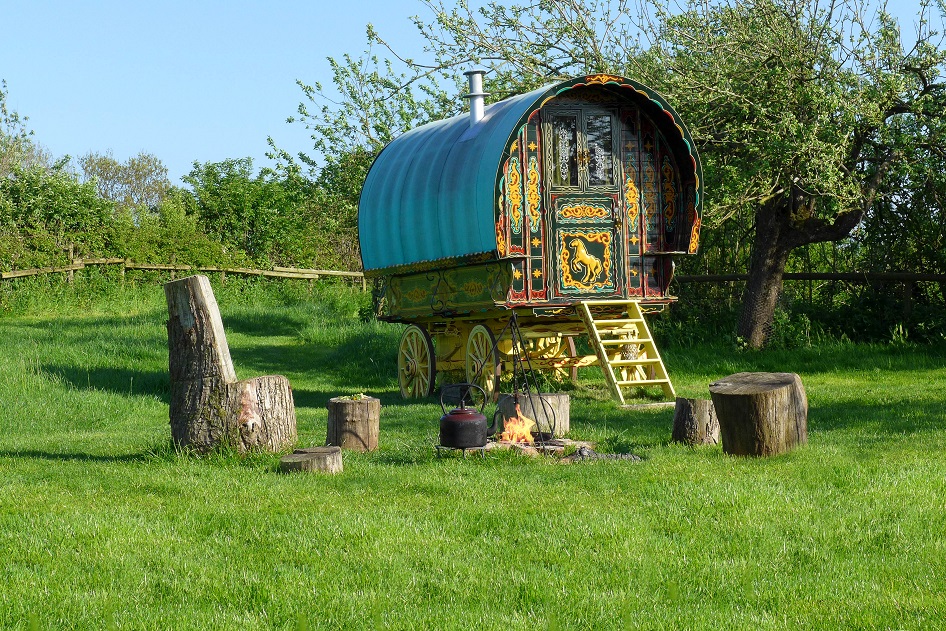 What Our Guests Say
about this special escape
What a beautiful and relaxing place! It's good to step back in time.  Everything was delightful. September 2015
A really peaceful and idyllic spot! We had a great time cooking around the campfire
Thank you so much for letting us share a piece of your heaven
I didn't expect to get exclusive use of all the facilities….an unforgettable place